This is superior product of our company.
CNC-CP series CNC Pipe Cutting Machine is for pipe cutting and edge beveling. The equipment can cut off pipe to required length, and can make beveling of various kinds on the pipe edge. Sketch of grooves available for cut please see below picture. For this reason, this kind of machine also has the name of CNC Pipe Intersection Cutting Machine.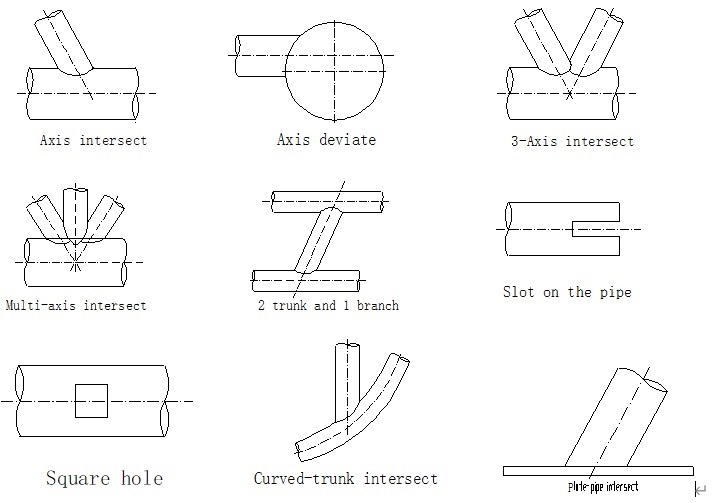 The CNC Pipe Cut Machine can utilize both flame (Oxy-Fuel) and or plasma cutting.
Machine Category:
Based on size (Diameter) of pipe, standard model of the CNC Pipe Intersection Cut Machine falls into 4 ranges. Please check below table. For length of the pipe being cut, standard size is 6m, 9m and 12m. And, we can design and produce non-standard size of the CNC Pipe Cutting Machine based on customer needs.
Based on control axis of the CNC Pipe Intersection Cut Machine, the machine falls into 3 types of 3-Axis, 5-Axis and 7-Axis. (For detail please check introduction of each model)
Our Strength:
Before 2010 the mature product for CNC Pipe Cut Machine in the market is for cutting pipe up to Dia.1200mm. In 2012, Wuxi JACK took the lead in developing large size CNC Pipe Cutting machine with max. Dia. Of 3m. This kind of machine is widely used in industries of Oil, Gas, Petrochemical, Pressure Vessel, etc.
The CNC Pipe Intersection Cutting Machines designed and made by Wuxi JACK are welcomed by customers both in China and overseas, and gain high recognition from customers.
For detail, please check introduction of each model: