Chief Engineer and General Manager of Wuxi JACK attended Industry Conference for Automatic Welding Technique applied in Offshore Oil Machinery
Views:0 Author:Site Editor Publish Time: 2021-10-20 Origin:Site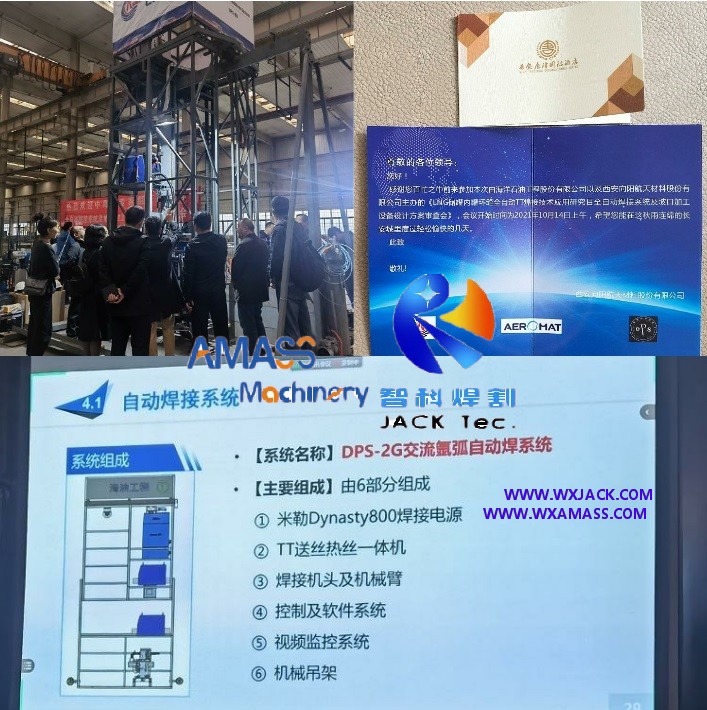 On Oct.14th ~ 15th 2021, Chief Engineer and General Manager of Wuxi JACK, Mr. David Zhang, attended an industry conference on the subject of "Automatic Welding
Technique applied in Offshore Oil Machinery" sponsored by Chinese National Offshore Oil Engineering Company (Headquartered in Tianjin) held in Xi An City, SHAN XI Province, as the role of senior expert in welding technology.
Subject of the Conference:

1) LNG Tanks (Short for Liquified Natural Gas Tanks) is the basic element in storage of natural gas in Offshore Oil industry;

2) The standard LNG Tanks have the size of diameter 200m and height 20m laid flat on the ground. In other words, it has height of 4-floors building (20m) covering the range of 200m;

3) The material of metal plate for making this LNG Tanks is special steel, 9-nickel steel (Means contain 9% Nickel in the steel);

4) For building such "huge monster" of object with strict stipulation on its tightness, process technology and applied welding technology are the foremost and critical points to be considered;

5) For this reason, the producer of LNG Tanks located in XI AN city invites nationwide experts to have a formal discussion on it. The invitee are all renowned experts from Universities, Colleagues and leading companies. Mr. David Zhang, Chief Engineer and General Manager of Wuxi JACK is also one of the invitees and went to this conference.
2. Topics Covered:
1) In the conference, experts reviewed the proposed proposal on building of LNG Tanks, including:
a) Process Flow;
b) Equipment needs to be used in the process;
2) To be specific, the general steps involve:
a) Welding groove making for getting best quality welding outcome;
b) Special welding machinery adopting technique of Automatic Argon Arc Welding;
c) Final painting and Surface treatment;
3) Of these, the core equipment of Special welding machinery for Automatic Argon Arc Welding includes:
a) Miller Dynasty 800 Welding Power Source;
b) TT Integrated machine for welding wire heating and feeding;
c) Welding head and mechanical manipulator;
d) Control system and software;
e) Video monitor unit;
f) Mechanical supporting bracket
3. Application of Edge Milling machine made by Wuxi JACK in LNG Tank Project:
1) As a senior and leading supplier in Welding & Cutting Machinery Industry, Wuxi JACK has built up our reputation and standing with superior quality and years of hard working;
2) Mr. David Zhang, the Chief Engineer and General Manager of Wuxi JACK, has close to 30 years experiences in this field. As early as 20 years ago, in the millennium year of 2000, when David was at his late 20s years of age, had acted as one of the supervisor design on the project of "Large Diameter Longitudinal Submerged Arc Welding Pipe" applied in the Chinese National Project of "West to East Natural Gas Transportation", and have acquired first grade certificate of GANSU provincial level;
3) Besides standard and conventional products, Wuxi JACK is good at designing and producing Special welding machinery thanks to our strong technical capability. Although the Special welding machinery made by Wuxi JACK is not perfectly fit with welding process of LNG Tanks production, the other product of Wuxi JACK, Edge milling machine does play an important role in the first step of LNG Tanks making;
4) Edge milling machine is superior and flagship product of Wuxi JACK. Over decades of years, Wuxi JACK has delivered several hundreds of Edge milling machine of various size, configuration and detailed structure to customers from industries of Shipbuilding, Port Machinery, Electric Power, Construction Machinery etc. worldwide, and have gained high speaking and appraisal by our customers;
5) These Edge milling machines do a great part in boosting welding quality and efficiency over various applications.