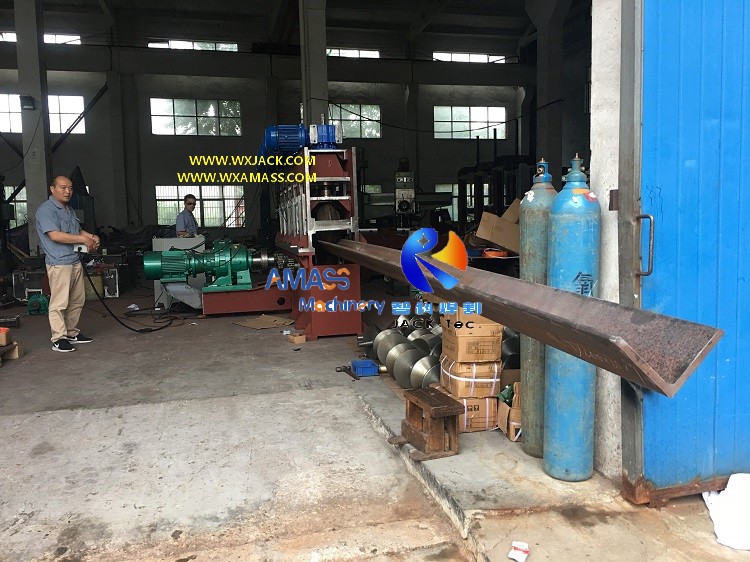 CONTENTS
1. Preface
2. BRIEF on Angle Steel Straightening Machine
3. ADVANTAGE of Angle Steel Straightening Machine
4. PROGRESS and PROSPECT on Angle Steel Straightening Machine
1. Preface
Last week (the week of June 14th, 2021) Wuxi JACK delivered 2 sets of Angle Steel Straighten Machine (Model: ASM100 and ASM200 one set each) to a customer at Chelyabinsk, Russia. It is the 9th and 10th set of ASM-series Angle Steel Straightening Equipment handed over to customer by June this year (2021).
1)

Usage of machine

:
The ASM-series Angle Steel Straighten Equipment is for straightening lengthwise deform of hot rolled Angle Steels;
2)

Background of machine

:
- Hot-rolled Angle Steels (carbon steel or stainless steel) is a kind of raw material often used in industries of Steel Structure/ Iron Tower/ Road Construction/ Bridge Building, and other applications involving use of Angle Steel;
- It has long shape with relative to small cross-section size, which is apt to being deflected during packing/ transport/ hoist/ storage (Statistics shows over 60% of Angles have this lengthways deform issue before being into use);
- For this reason, constructors need to straighten the Angle Steel before using it
Over the past decades, straightening this longitudinal deform of Angles was made by hand. Practice is to knock the Angle Steel with hammer…. It is a very strenuous job consuming long time work, of little technique skills involved, which was seen as a fear by numerous operators.
Downside of manual straightening Angle Steel includes:
- Very low efficiency, Empirical data shows 2Ton of Angles straightened by an operator per day at most;
- Inconsistent Quality: This is a conceivable issue for all the manual works;
- Waste of Manpower: In this era of manpower becomes more and more in short supply and valuable, to have operator doing such kind of "Low End" job is a huge waste for both employer and employee
In general, there exist big gap on demand on High Speed Angle Steel Straightening machine, and lack of such equipment in the market.
In the year 2014~ 2015, as a supplier aiming at customers of Steel Structure/ Tower& Road& Bridge, Wuxi JACK saw opportunity to render service in this subdivision of Angle Steel Straightening.
With months of hard effort from Conceptual Design/ DFMEA (Design Failure Mode and Effect Analysis)/ Prototype Design/ Pilot and Validation, the 1st set of High Speed Angle Steel Straighten Machine was produced in Autumn of 2014, and delivered to a customer in China of Iron Tower facility.
4)

Rapid Growth of ASM-series Angle Steel Straightening Machine
Ever since, the ASM-series High Speed Angle Steel Straightening Equipment sees very rapid growth both in China and abroad. In the year of 2015 (the next year following launch of the machine), Wuxi JACK delivered 27 sets, and 9 of them exported to overseas; In 2019, the previous year of CoVid-19 outbreak, 50+s of Automatic Angle Steel Straighten Machine of various specification were handed over to customers around the globe, boosting their productivity and quality in a great degree. In 2020, even under the background of economy downturn caused from CoVid-19, we still made 20+ sets shipment to customers.
3. ADVANTAGE of Angle Steel Straightening Machine
So, what is definite benefit of the machine brought to customers in quantitative index? Let us assume it in these three aspects which is critical for customers:
1)

Productivity Increase
As mentioned earlier in this article, with manual labor, the best output on Angle Steel straightening is around 2Ton per day by an operator;
In contrast, with the ASM-series High Speed Angle Steel Straighten Equipment, in straightening speed of 6000mm/min., and under 70% ~85% line balance rate (percentage of time in actual operation), the expected produce by a ASM is around 15~ 20Ton per day of single shift. Which means, 10-times increasement inefficiency compared with manual work;
Note: A set of Automatic Angle Steel Straightening Equipment need only 1 operator to take care during its running, including Load/ Unload/ Straightening.
2)

Quality Assurance
Previously for straightening the Angle Steel by hand, besides operator who knock the workpiece, an inspector is also necessary to check on straightening effect. It is inevitable for the job of monotonous and toilsome.
Now, with the High Speed Angle Steel Straightening Machine, straightened Angles of consistent straightness can be guaranteed. Only the First Workpiece Inspection and Sampling Inspection is needed. Which means, 1 Operator + 1 Inspector can now be turned into 1 operator only;
3)

Return on Investment
With years of experience accumulation, and feedback from customers, estimation is for purchase of the ASM-series Angle Steel Straighten Machine, cost recovery can be realized within half to one year (Which means customer can save money equal to investment on the equipment with half ~ one year operation). This is a very cost-effective equipment procurement for customer, let alone quality advancement in great degree.
In brief, the introduction of Automatic and High Speed Angle Steel Straightening Machine brings along revolutionary progress in the segmentation of Angle Steel Straightening, which sees great market potential.
4. PROGRESS and PROSPECT on Angle Steel Straightening Machine
1)

Progress of the ASM-series Angle Steel Straightening Machine
Over the last 6~7 years ever since we launch the new product, several rounds of improvement on its structure& components have been made, based on continuous improvement& validation and customer feedback. Today, the machine integrates merits of easy operation, easy maintenance, low running cost (no consumables involved), full-round safety mechanism, high productivity, best and consistent quality assurance. It has gained welcome and recognition by customers both in China and abroad.
The ASM-series Angle Steel Straightening Equipment has series of standard models to choose from, from ASM63 to ASM200, based on size of Angles to be straightened. And we have capability to design and manufacture the machine of special specification.
Besides on progress on its hardware, over the years we also accumulated rich abundance of rule of thumb on the critical parameters of "Downward Stroke of Top Straightening Rollers" for various size of Angle Steel, under various model of the machine. It is Intellectual Property of Wuxi JACK of great value, and we will give the section data of corresponding model to customer along with other technical documents (Manual Book/ Certificate)
2) Prospect of the ASM-series Angle Steel Straightening Machine
As a summary, with infrastructure construction going on every day all over the world involving using of large volumes of Angle Steel, the ASM-series High Speed Angle Steel Straightening Machine sees huge potential and development prospects. We expect to render service to customers in this subdivision work of Angle Steel st